Accommodation
Safari Rooms
The newest additions to Chobe are our 46 safari rooms. Individually decorated, they offer every comfort. Each safari room affords our guests the luxury of air-conditioning, luxurious en-suite bath and shower facilities, as well as satellite TV, and telephone. The Safari rooms enjoy expansive lawns which form the banks of the Chobe river. Each room has its own patio that gives one the privacy of enjoying views of the river from the comfort of your own room. The rooms are also in close proximity to the main complex.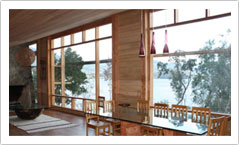 River Rooms
The north east facing luxurious twin-bed river rooms are air-conditioned and offer the convenience of phone, TV and large en-suite bathrooms. Family rooms include two twin bedrooms. Our wing of river rooms are attached to the main complex via down stairs corridor or upstairs viewing deck.
The river room complex also has it's own riverside garden where guests often take time to photograph the resident monkeys and mongoose. Both our upstairs and downstairs units also enjoy their own private patios.
Rondavels
One of Chobe Safari Lodges original accommodation types, the trditional thatched rondavels are independently positioned, with ceiling fans and en-suite bathrooms. These detached units are positioned close to the river in the lodge gardens.
The rondavels are positioned to the west of the main complex and are also a very short walk to the main complex.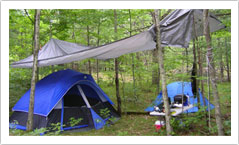 Camping
The famous Chobe Safari lodge campsite offers individual sites scattered amongst the riverine forest close to the Chobe River. Each site has its own power point and is close to one of the modern ablution facilities.The Sedudu Bar overlooks the river and floodplains, and is well known as "the" sundowner spot in the region.